A Life's Worth of Living – Witnessing the Life of Foreign Correspondent, Dr. Ruth Gruber, in Her New Book "WITNESS"
Lys Anzia – WNN Features
As award winning foreign correspondent, Dr. Ruth Gruber, reaches her 96th year this year, her new and 19th book is out. The book, "WITNESS – One of the Great Correspondents of the Twentieth Century Tells Her Story," crosses decades as it speaks of humanity, crisis and rescue. Just released by Schocken/Random House Books, "WITNESS," maps in carefully carved descriptions the Arctic towns of the 1930s, the casualties of Hitler's regime in the 1940s and the resettlement of the Jewish refugees in the decades following World War II.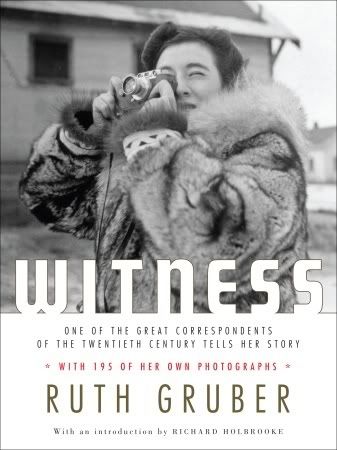 In 1935, Ruth's world in journalism was expanding as she received, at the age of twenty-four, permission from one of Stalin's Soviet gate-keepers to enter the Arctic region as a foreign correspondent. Only four years before, Gruber was celebrated as the youngest doctorate in American history at the age of 20.
On entry to the northern Arctic, Gruber saw what few western journalists had ever seen up to that time. It was the inner life of the prisoners of Stalin's gulags in the isolated regions of Siberia. As the gates of the region were opened to her, words spread among Ruth's associates, "My journalist friends began showering me with sweaters, scarves, long underwear, mittens, wool hats and even a hot water bottle," she wrote.
The trek would not be without risk and daring. Leaving on her trip to the Arctic Ocean, north from Moscow, Ruth grew that day as a correspondent and cultural archivist as she carried her small Hermes typewriter along with her notebooks. She would find the travels never to be boring.
As Ruth begins her flight in "WITNESS" to Yakutsk, in the Gulag, she writes,
"Finally in a heavy rainstorm I was driven to the waterfront where I saw a 'junkers' monoplane. It looked like a slender bird with the markings in Cyrillic letters: CCCP-H5 (USSR-North5). Victor Galishev, a tall, brawny pilot in a long brown leather jacket with a scarf around his neck and a cigarette in his fingers helped me aboard. There was another passenger. Ilya Andreevich Adamovich, a political leader who was flying home to Yakutsk. I knew he was either important or rich: his mouth was filled with gold teeth interspersed with pearly white ones. He told me, 'Everyone in Yakutsk is waiting for you'. . . We flew along the Angara River and then along the Lena River, which Adamovich pronounced lee – YAY – nah. The inside of the narrow plane was freezing and pitch black. Galishev insisted, despite my protests, that I wear his thick leather coat.In the darkness I made my way to a tiny window and looked down. Lake Baikal lay in the distance separating Russia from Outer Mongolia. Adamovitch joined me at the window and pointed out the sights. 'We're flying over the Alexandrovsky Central, a terrible prison.'

Below was a large fortress. I shuddered as Adamovitch went on, 'Many of our leaders were imprisoned inside it or exiled close to it. Stalin, Molotov, others – they were all in this area. Many of the others were killed.'

It was the gulag."

As she archived the journalist's "who, why, what, when, where" Ruth wrote her impressions as a journalist first and a woman second. Her ability to reach the heart of everyone she met helped her immensely. She was likeable and honest and took copious notes.
"We want you to write a four part series about the Soviet Arctic," said Gruber's boss and mentor, Helen Rogers Reid, owner of the well-known and respected, "Herald Tribune" newspaper.
"Ruth, you've scooped the world," added Reid.
To see more of this story with video and special reports link to page two below > > >
1 2
Short URL: http://womennewsnetwork.net/?p=50