Humanitarian Publications
TRAUMATIC POSSESSIONS

Studies of traumatic stress have explored the challenges to memory as a result of extreme experience, particularly in relation to the ways in which trauma resonates within the survivor's body and the difficulties survivors face when trying to incorporate their experience into meaningful narratives. Jennifer Griffiths examines the attempts of several African American writers and playwrights to explore ruptures in memory after a traumatic experience and to develop creative strategies for understanding the inscription of trauma on the body in a racialized cultural context.
In the literary and performance texts examined here, Griffiths shows how the self is reconstituted through testimony—through the attempt to put into language and public statement the struggle of survivors to negotiate the limits placed on their bodies and to speak controversial truths. Dessa in her jail cell, Venus in the courtroom, Sally on the auction block, Ursa in her own family history, and Rodney King in the video frame—each character in these texts by Sherley Anne Williams, Suzan-Lori Parks, Robbie McCauley, Gayl Jones, and Anna Deavere Smith gives voice not only to the limits of language in representing traumatic experience but also to the necessity of testimony as the public enactment of memory and bodily witness.
Author: Jennifer L. Griffiths
Publish Date: January 2010
Pages: 160
Publisher: University of Virginia Press
Hardback: ISBN 0-8139-2883-8 • $39.50
Paperback: ISBN 0-8139-2884-5 • $19.50
Purchase this book via: University of Virginia Press
___________
Hollow Bodies – Institutional Responses to Sex Trafficking in Armenia, Bosnia, and India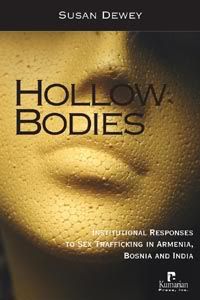 In Hollow Bodies, Susan Dewey travels to Armenia, Bosnia-Herzegovina, and India to follow the trade in women's bodies and efforts to stop it. What she finds is a counter-trafficking system at the mercy of funds from misguided international organizations and foreign governments. From counterproductive restrictions placed on NGOs by donors, to jaded employees and bribes given to prosecutors, Dewey highlights the structural flaws in place that allow, and sometimes even help, sex trafficking to continue.
Based on research conducted with the International Organization for Migration (IOM), Dewey speaks with a range of actors from bar workers in Bombay to Embassy employees in Armenia and senior officials at international organizations. She discovers how a global problem plays out differently on the local level and why millions of aid dollars make little difference in the lives of women who are forced or compelled from their homes into the global sex trade.
Author: Susan Dewey
Paperback / Hardback: 216 pages
Language: English
Publisher: Kumarian Press (July 2008)
ISBN # Code 10: 156549265X
Price: Paperback $24.95 / Hardback $69.95
Purchase this book via: Kumarian Press
_________________
A Time For Tea
Women, labor and post-colonial Politics on an Indian Plantation
by Piya Chatterjee
In this creative, ethnographic and historical critique of labor practices on an Indian plantation, Piya Chatterjee provides a sophisticated examination of the production, consumption and circulation of tea.
Allowing personal, scholarly and artistic voices to speak in turn, the author discusses the fetishization of women who labor under colonial, post/colonial and now neofeudal conditions. A Time for Tea demonstrates that at the heart of these narratives of travel, conquest and settlement are compelling stories of women workers. While exploring the global and political dimensions of local practices of gendered labor, Chatterjee also reflects on the privileges and paradoxes of her own "de-colonisation" as a third-world feminist anthropologist.
Hardback
400 pages
USD $12
ISBN# 8186706534
Publication date: 2003
South Asia
To buy this book go to: ZUBAAN books
__________________________________________________
Feminism, Nationalism and Exiled Tibetan Women by Alex Butler
About the Book:
ON SEPTEMBER, 1995, Tibetan nationalism and international front of a global audience when nine exiled.
Tibetan women staged a demonstration at the united Nations Fourth World Conference on Women in Beijing. From the Tibetan perspective, the women had created history by becoming the first Tibetans ever to hold a protest on Chinese soil.
This book traces the history of organized political resistance by Tibetan women over the 40-year period leading up to the Beijing Conference. It describes and analyzes the development of the Tibetan Women's Association, the mass women's organization of the Tibetan exile community, and in particular the impact of feminism on it. It looks at the overlaps and tensions between nationalism and feminism, and examines how both can be constructed in exile. In doing so, the book raises questions of belonging and representation, of change and permanence, of political expediency and idealism. Overall, it provides a unique insight into the nature of Tibetan nationalism and its interaction with international forces and movements.
About the Author:
ALEX BUTLER is an Australian social scientist who has been involved in the Tiber support movement for over ten years. She is based at La Trobe University in Melbourne.
242 pages
USD $6
ISBN# 8186706526
Publication Date: 2003
Worldwide
To buy go to: ZUBAAN Books
____________________________________________________
Women Facing War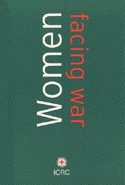 This 2001 ICRC-International Committee of the Red Cross study is an extensive reference document on the impact of armed conflict on the lives of women.
Taking as its premise the needs of women, e.g. physical safety, access to health care, food and shelter, in situations of armed conflict, the study explores the problems faced by women in wartime and the coping mechanisms they employ. A thorough analysis of international humanitarian law, and to a lesser extent human rights and refugee law, was carried out as a means to assess the protection afforded to women through these bodies of law. The study also includes a review of the ICRC's operational response to the needs of women as victims of armed conflict.
Overview of contents and executive summary ICRC, Geneva, 2001, 274 p., 15,5cm x 23cm. Available in print from ICRC in English, Spanish, French, Arabic / Price in print CHF $45
FREE version of Executive Summary
_____________________________________________________
War's Offensive on women: The Humanitarian Challenge in Bosnia, Kosovo and Afghanistan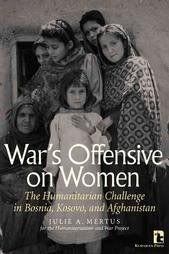 This book has case studies from Bosnia, Kosovo, and Afghanistan that attempts to tackle and understanding of human rights laws and gender-based violence.
War's Offensive on Women contends that humanitarian groups' attempts to provide assistance and protection for women will fall short unless they make women major actors in such efforts. Mertus shows how human rights laws are beginning to address gender-based violence, and how agencies can respond to women's needs in conflict and post-conflict settings. The book is of wide interest to humanitarian and human rights practitioners, policymakers, and students alike.
Authors: Julie A. Mertus
Publication date: 2000
Pages: 176 pages
ISBN Code #: 1565491173
Price: $22.50
Online review: by Conflict Research Consortium Staff
To buy go to: Kumarian Press
______________________________________
Women's contribution to equality in Latin America and the Caribbean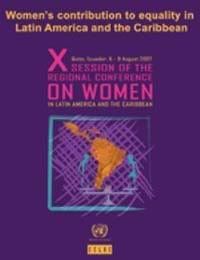 Women's contribution to equality in Latin America and the Caribbean brings to the fore two key issues in the structural pattern of inequality between women and men: first, political participation and gender parity in decision-making processes at all levels, and, second, women's contribution to the economy and social protection, especially in relation to unpaid work.
The report, presented at the 10th session of the Regional Conference on Women in Latin America and the Caribbean sets out active policies for overcoming the obstacles to equitable access to the labour market, especially those arising from the sexual division of labour which has become established through usage and the frequent discriminatory practices observed on the labour market.
United Nations Publication (ECLAC)
Coordinated by Sonia Montaño, Chief of the Women and Development Unit
of the Economic Commission for Latin America and the Caribbean (ECLAC).
Location and date: Quito, Ecuador  6-9 August, 2007
Edited by Sonia Montaño and María Nieves Rico, and Vivian Milosavljevic
Price: Free
To get this free publication:
get free PDF
__________________________
Why Are Women More Vulnerable During Disasters? – Violations of Women's Human Rights in the Tsunami's Aftermath


Publisher: Asia Pacific Forum on Women, Law and Development (APWLD)
This report presents testimonies from women's groups involved in the relief efforts after the 2004 Indian Ocean tsunami and Pakistan earthquake indicating that women are more vulnerable and at risk during such disasters. Women are marginalized and dis-empowered even under normal circumstances, having lower socio-economic status, barriers to choice and lack of access to resources. When disasters strike, they tend to have less access to relief resources because relief efforts rely on existing structures of resource distribution that reflect the patriarchal structure of society. The report contains recommendations to governments, aid agencies and national and international non-governmental organizations (NGOs) involved in rehabilitation and reconstruction processes on addressing women's needs and preventing violations of women's human rights. 2005. 60 pages. WE810.
Free download
To get go to: Asia Forum on Women, Law & Development
_____________________
Born of War Protecting Children of Sexual Violence in Conflict Zones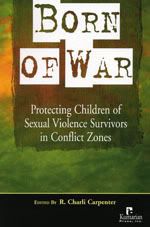 Editor: R. Charli Carpenter

Despite the international humanitarian community's interest in sexual violence as a problem in conflict situations and the protection of war-affected children, there has been no recent research that assesses the needs and interests of children born of war in different contexts. Further, there is no significant body of knowledge by which to establish best practices with respect to advocating for and securing their human rights. This book attempts to fill that gap by drawing together the perspectives of 25 scholars from 14 disciplines to provide a multi-faceted view of the human rights of children born of wartime rape and sexual slavery in conflict zones worldwide. By detailing the impacts of armed conflict on these children's survival, protection and membership rights, as well as through moving case studies, the book illustrates the tragic fact that these children are particularly vulnerable in conflict zones and pose a very pressing human security concern. Case studies also highlight the different responses made by communities towards these children. The book is framed within the lens of advocacy, as contributors have conducted their research with the goal of advocating for greater consideration of this group of children in international human rights discourse and practice.
Title: Born of War Protecting Children of Sexual Violence in Conflict Zones
Editor: R. Charli Carpenter
Print date: 2007
Pages: 243
ISBN: 978-1-56549-237-0. WE853
Price: $24.95
To buy go to: Kumarian Press
____________
The State of the World's Children 2007

Examines the discrimination and disempowerment women face throughout their lives – and outlines what must be done to eliminate gender discrimination and empower women and girls.




This pocked-sized Executive Summary provides an overview of the report, and includes summary indicators that provide economic and social data on all of the world's regions.

Author: UNICEF
Price: Free
No. of pages: 41
Publication date: December 2006
Publisher: UNICEF
Languages: English (French, Spanish)
ISBN:13: 978-92-806-4064-9;
ISBN:10: 92-806-4064-X
Available in the following format for FREE

____________________________________________
Comfort Women: Sexual Slavery in the Japanese Military During World War II
by Yoshimi Yoshiaka

An unsparing look at one of the great war crimes of the 20th century. . .
To this day, many Japanese argue that their country was the victim and not the perpetrator of the Pacific War, and that even in losing the war, Japan can be proud that it led to the end of western colonialism in Asia. Of course this blinks the fact that Japan was one of the worst colonialists ever to set foot in another country. Nowhere is this more obvious than in the Japanese military's infamous "comfort stations"–largely staffed by unwilling young women from the colonies.
The largest number of "comfort women" were Korean and Chinese, followed perhaps by prostitutes recruited in Japan itself. (Even where the comfort women had earlier worked in "the shameful profession," as the Japanese military called it, there's a question as to how voluntary this was. As late as 1933, Japanese prostitutes were confined to red-light districts, and extreme measures were used to prevent them from escaping.) But everywhere the Japanese army and navy went, local women were rounded up and sent to the military brothels. Catholic Filipinas, Dutch Indonesians, Pacific Islanders, and perhaps Australian nurses–all were grist for sexual slavery.
Author: Yoshimi Yoshiaka
Title: Comfort Women: Sexual Slavery in the Japanese Military During World War II
Paperback: 240 pages
Publisher: Columbia University Press; New Ed edition (July 15, 2002)
Language: English
ISBN-10: 0231120338
ISBN-13: 978-0231120333
Product Dimensions: 8.9 x 6 x 0.6 inches
List Price: $28
Available through Columbia University Press and Amazon.com.
________________________________________
Women's Rights — Human Rights

This comprehensive and important volume includes contributions by activists, journalists, lawyers and scholars from twenty-one countries. The essays map the directions the movement for women's rights is taking–and will take in the coming decades–and the concomittant transformation of prevailing notions of rights and issues. They address topics such as the rapes in former Yugoslavia and efforts to see that a War Crimes Tribunal responds; domestic violence; trafficking of women into the sex trade; the persecution of lesbians; female genital mutilation; and reproductive rights.
Title: Women's Rights – Human Rights
Author(s): Julie Peters and Andrea Wolper
Paperback: 384 pages
Publisher: Routledge; 1 edition (December 14, 1994)
Language: English
ISBN-10: 0415909953
ISBN-13: 978-0415909952
Product Dimensions: 8.8 x 6 x 0.8 inches
List Price: $38.95
Available through Routledge Press and Amazon.com.
_________________________________
Women, Gender, and Human Rights

The 1948 United Nations Universal Declaration of Human Rights expresses the credo that all human beings are created free and equal. But not until 1995 did the United Nations declare women's rights to be human rights, and bring gender issues into the global arena for the first time. The subordination of indigenous and minority women, ethnic cleansing, and the struggle for reproductive rights are some of the most pressing issues facing women worldwide.Women and Human Rights is the first collection of essays to encompass a global perspective on women and a wide range of issues, including political and domestic violence, education, literacy, and reproductive rights. Most of the articles were written expressly for this volume by internationally known experts in the fields of government, bioethics, medicine, public affairs, literature, history, anthropology, law, and psychology.
Paperback: 339 pages
Publisher: Rutgers University Press; 1 edition (2001)
Language: English
ISBN-10: 0813529832
ISBN-13: 978-0813529837
Product Dimensions: 9.4 x 6.5 x 0.9 inches
List Price: $25
This book is available through Rutgers University Press and Amazon.com.
_______________________________

(free publication for download)

"Will you listen?" - Young voices from conflict zones

Title: "Will you listen?" Young voices from conflict zones
Author: Office of the Special Representative of the Secretary-General for Children and Armed Conflict, Global Youth Action Network (GYAN), UNICEF, UNFPA and Women's Commission for Refugee Women and Children
Price: Free
No. of pages: 25
Publication date: October 2007
Publisher: UNICEF
Languages: English (French, Spanish)
Avavaliable in the following formats:
This report, a companion to the Machel Study 10-Year Strategic Review, compiles the views and recommendations of some 1,700 children and young people in 92 countries, including many who have experienced conflict. Their thoughts and ideas were collected as a key contribution to the Strategic Review through a series of focus group discussions and an online questionnaire. "Will you listen?" presents a wide range of voices and concerns documented from these discussions.
To receive a free copy of this book by UNICEF you can also link here: "Will you listen?"
______________________________
Are Women Human?

Are Women Human?
by Catharine A. Mackinnon
ISBN13: 9780674021877
ISBN10: 0674021878Publisher Comments:More than half a century after the Universal Declaration of Human Rights defined what a human being is and is entitled to, Catharine MacKinnon asks: Are women human yet? If women were regarded as human, would they be sold into sexual slavery worldwide; veiled, silenced, and imprisoned in homes; bred, and worked as menials for little or no pay; stoned for sex outside marriage or burned within it; mutilated genitally, impoverished economically, and mired in illiteracy — all as a matter of course and without effective recourse?
The cutting edge is where law and culture hurts, which is where MacKinnon operates in these essays on the transnational status and treatment of women. Taking her gendered critique of the state to the international plane, ranging widely intellectually and concretely, she exposes the consequences and significance of the systematic maltreatment of women and its systemic condonation. And she points toward fresh ways — social, legal, and political — of targeting its toxic orthodoxies.MacKinnon takes us inside the workings of nation-states, where the oppression of women defines community life and distributes power in society and government. She takes us to Bosnia-Herzogovina for a harrowing look at how the wholesale rape and murder of women and girls there was an act of genocide, not a side effect of war. She takes us into the heart of the international law of conflict to ask — and reveal — why the international community can rally against terrorists' violence, but not against violence against women. A critique of the transnational status quo that also envisions the transforming possibilities of human rights, this bracing book makes us look as never before at an ongoing war too long undeclared.
Title: Are Women Human? – And Other International Diaologues
Author: Catharine A. Mackinnon
Publisher: Belknap Press
Publication Date: April 2006
Binding: Hardcover
Language: English
Illustrations: none
Pages: 432
Dimensions: 9.25 x 6.25 in
Price: $23.10 +s&h (buy for less through Amazon.com)
______________________________
1000 PeaceWomen Across the Globe

Hundreds of journalists, authors, photographers and editors around the world contributed to the success of this award winning publication.
1000 PeaceWomen Across the Globe introduces the 1000 women who were collectively nominated for the 2005 Nobel Peace Prize. Each peacewoman is presented on a double page, with a biography on one page, and in most cases a portrait photograph on the facing page, or alternatively a quotation. The biographies provide insight into the life and work of women engaged in social justice and peace in different countries and contexts. The biographies are arranged around ten thematic areas of work:
Reconciliation and Reconstruction
Women's Rights – Human Rights on the Way to Gender Democracy
The Struggle for Survival: Minorities and Indigenous Peoples
Economic Rights and Livelihood
Justice and Peace
Stopping the hidden war against women: Women, Health & Peace
A Thousand Ways to Educate for a Global Culture of Peace
Women's efforts for Environmental Justice & Ecological Security
A Cultural Conception of Peace
Politics & Governance
The book reflects cultural differences and the different ways that women articulate their vision of peace; and presents a colorful mosaic of different styles and voices. The book is produced by Swiss publisher Kontrast and published internationally by Scalo.
1000 PeaceWomen Across the Globe is an important reference and guide for NGOs, governments, ecumenical groups and peace and women's networks, as well as individuals interested in grassroots movements and the growth of democratic civil society.
The publication was awarded by the Swiss Ministry of Culture as "One of the Most Beautiful Books of 2005″, and we would like to recognise and thank the work of Alberto Vieceli and Tania Prill.
The book is available worldwide through book stores served by Thames&Hudson distributors and Amazon.com.
________________________
Short URL: http://womennewsnetwork.net/?p=3480