LYS ANZIA – WNN Features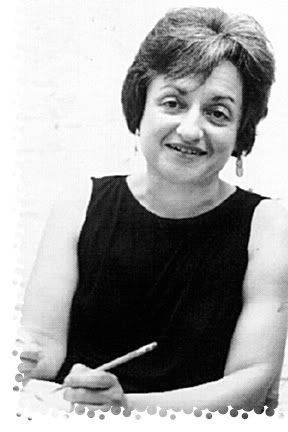 "I know her as Aunt Betty," said NPR producer Kitty Eisele.
Aunt Betty was that same famous mother of women's rights who Eisele found asleep late one night safe under blankets on Eisele's sofa. As a neighbor, this mother of all liberated women had come knocking because she was locked out of her own place without a key. So, I wondered who was this Aunt Betty? Why, it was Betty Friedan of course.
Eisele goes on to explain, "She was a sort of fairy god-mother in my life. As strange as that must sound I think she liked being thought of that way."
Her death had a tinge of magic in it just as her life did. Betty Friedan died last Saturday, Feb 4, from congestive heart failure, on the same date she was born, 85 years ago, just one year after women's suffrage was passed. The circle of feminist fame and accomplishment had finally come home to roost.
Spanning a life of drastic change in the women's movement and decades of civil unrest, Friedan lived the perfect suburban houswife's life as the decade of the 1960's began in Grandview-on-the-Hudson. It was there that her famous book, The Feminine Mystique, was born. Listed on NYU's 1999, "100 Examples of Best Journalism of the Century," Friedan's book swept many white upper middle-class woman out of their comfortable yet miserable existence at home and into the hard work world of the 1970's career woman.
"In a certain sense it was almost accidental -coincidental- that I wrote The Feminine Mystique, and in another sense my whole life had prepared me to write that book," said Friedan in a later book, It Changed My Life, published in 1976 by Random House.
Safely identifying suburban depression as the "problem that had no name," Betty perfectly understood that things needed to change for most women in the late 50's and early 60's. She created a map for this when she came up with the idea for the book after taking a survey of fellow women graduate students from Smith College. After showing the article to numerous editors and having numerous rejections she worked the material into solid book form.
"Every chapter I finished, I said, 'Am I crazy!' because it so went against what everybody believed about women," Friedan said, "and yet I knew my truth and I knew the truth of the women I was listening to."
When Alan Wolfe wrote about the "Mystique of Betty Friedan" in a 1999 Atlantic Monthly he applauded Friedan's courage. He said the book today, "Remains one of the most powerful works of popular nonfiction written in America. Not only did it sell in the millions but it has long been credited with launching the contemporary feminist movement."
Some feminists thought Freidan didn't take her ideas far enough. Carol Iannone, writer for Frontpage Magazine and editor-at-large for the National Association of Scholars, called Betty Friedan the "godmother of equity feminism," Freidan did hit rough waters in the women's movement in the early 1970's. She found herself stuck between the coffers of feminist who wanted to live their lives with, and those who wanted to live their lives comfortably without the comfort of men. There was no doubt. One way or the other Betty was changing the lives of countless American women.
Even Simone de Beauvoir was not immune. In a 1976 interview, she thanked Betty for dedicating The Feminine Mystique to her. "No woman should be authorized to stay at home to raise her children. Society should be totally different. Women should not have that choice," she said.
"She spoke with energy and passion. She was a fighter," said Eleanor Smeal, former President of NOW and president of the Feminist Majority Foundation. "The last time I saw her, at her last birthday party, she was so upset about what was happening to abortion rights and the backlash of women's rights."
Much earlier Betty had said, "It's more than the women. It's got to be the women and the men."
Paving the road for later feminists like Bella Abzug, a young Gloria Steinem and Germaine Greer; Betty, as one of the founders of the National Organization for Women, sought to bring the issues of home and world much closer to the public eye. Little did she know that her doodles, in 1965, on a cocktail napkin while trying to figure out a good name for a new women's project would lead to the creation of NOW.
After being asked to attend a conference for the Association of Work-Life Professionals in Miami, in 1998, Betty Friedan shared one more bit of Friedan wisdom. After all the accomplishing, all the flag waving, all that giving voice for women, she shared the most important plan of all.That great life-loving "Aunt Betty" was still kicking after all those years and still telling it like it is.
"We don't need to be such a nation of work-a-holics. We have to be life-a-holics."
-In March, 2006, this article will, also, appear in Moondance Magazine, the UNESCO award-winning online magazine for women.
-Facts for this article supplied by Atlantic Monthly, NPR.org, The Seattle Times, YouTube and Saturday Review 1975.
©WNN -Women News Network 2006
_____________________________________________________